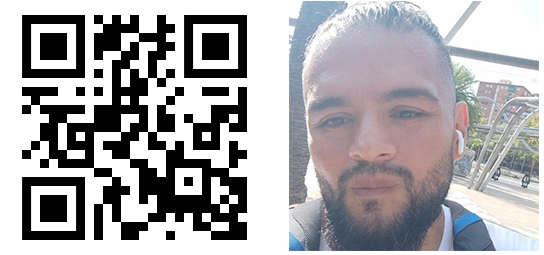 Italian
Grazie di essere qui, molto probabilmente hai trovato una mia valigia o un oggetto che ho smarrito durante un viaggio e hai scansionato per curiosità uno dei miei QR-Code. Scansiona il codice QR di Telegram per sentirci via chat.
Chi sono? Il mio nome è Andres Reyes ed esplorare il mondo senza la necessità di "prendere le ferie"  dal lavoro è una cosa che ho sempre sognato e la pandemia, nel bene e nel male, mi ha dato un'ulteriore spinta nel coltivare uno stile di vita da digital nomad: lavorando da remoto e visitando paesi come Colombia, Spagna, Italia, etc
English
Thanks for being here, most likely you've found an object I lost on a travel and you've scanned one of my QR-Codes. Please scan the Telegram QR code to call me or chat.
Who i am? My name is Andres Reyes and exploring the world without the need to "take vacation" from work is something I have always dreamed of and the pandemic, for better or for worse, has given me a further boost in cultivating a digital nomad lifestyle: working remotely and visiting countries such as Colombia, Spain, Italy, etc
Spanish
Gracias por estar aquí, lo más probable es que hayas encontrado algo que perdí viajando y hayas escaneado uno de mis códigos QR. Por favor escanea el código QR de Telegram para chatear.
¿Quién soy?  Mi nombre es Andres Reyes y explorar el mundo sin necesidad de "tomar vacaciones" del trabajo es algo con lo que siempre he soñado y la pandemia, para bien o para mal, me ha dado un empujón más para cultivar un estilo de vida de digital nomad: trabjar de forma remota y visitar países como Colombia, España, Italia, etc.